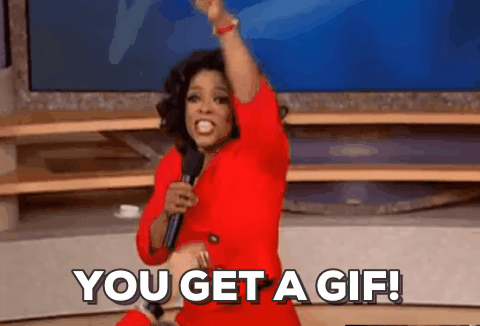 This is Kate from Kate's Book Nook and I we are now in the final hour of the readathon! I just realized as I was sitting here to write this, that this is also the final hour of any readathons of this decade (the 20 10s). Next readathon will be in 2020, and that is so crazy to think about.
Last Hour we played Never Have I Ever. I won't lie to you, it was pretty hard to come up with those things that I had never done. Would have been much easier if I had let myself select things that I personally had done.
With it being so close to the end and people trying to get their final push in, I thought that this hour we would do something easy for our mini challenge. Post at least one of your favorite book related gifs. Imaginary bonus points if it is about a specific book. One of my favorites is below.
Thank you so much for joining us for another amazing Readathon. I've loved every minute of these last few hours (and the proceeding 20). If you've read anything at all today, you are a winner in my books. And so, just like every other year, I will send you out with the celebration song of champions! I'll see you all in 2020!
Closing Survey!
How would you assess your reading overall?
Did you have a stategy, and if so, did you stick to it?
What was your favorite snack?
Wanna volunteer for our next event?
Link up below or leave a comment!
Enter your finished books into the DATABASE here!
Check out the mini-challenges ANY TIME YOU WANT!
Cheer your fellow readers!
Join our Goodreads or Facebook groups!
Watch for posts and stories on our Instagram!
Tag your posts with #readathon on all your social channels!