Hello again, it is STILL reading diva extraordinaire, Julianne. As always, you can find my jokes, things I make, and places I go on Instagram as @_ulianne. I am excited to let you know that we are now TEN FULL HOURS into the readathon, which is nearly halfway through. Amazing job, everyone!!
——
I'm here with a fun and extremely low key activity for you. As a whiny diva, I often need ways to spice up my reading and keep me interested in a book for an extended period of time. SO I decided to try incorporating tarot cards into the situation. NO TAROT KNOWLEDGE REQUIRED.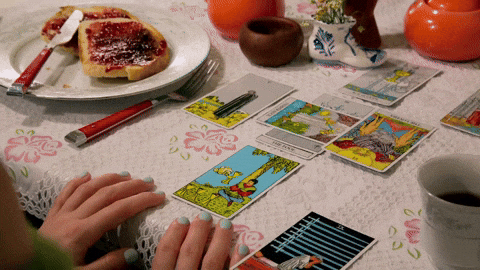 Tarot cards are interesting to me not as any sort of fortune telling, but as representations of different parts of stories and the human experience (I talk more about that in my very skeptical Instagram story highlight titled "Tarot for A**holes"). So, given that we are READING stories, maybe we can try to read them a little more intentionally, especially now that we're halfway through and maybe getting a little autopilot-y.
THE CHALLENGE
(there is no prize, I'm just trying to have a little fun here)
Hold or think about the book you're about to start. Draw a random tarot card (you can do so virtually here). Look at the design then Google the card meaning. As you read your book, look out for representations of the theme of that card. Use the card to frame your reading experience in a fresh new way!
See if the card creates connections for you that you may not have found without. See if it draws out themes or images that may have otherwise sat in the background. Is there a character who embodies the card you drew? Are there any symbols from the card design that make subtle appearances in the book? Prepare for potential SPOOKY coincidences – and have fun mixing up your typical reading routine if it starts to feel a little stale!
——
Take a few minutes to check out our Mini-Challenges!
Share the books you've read in our Books Database!
Make yourself at home in our Goodreads or Facebook groups!
Join the hourly photo challenge on Instagram!