Hello Readathoners! This is Kate from Kate's Book Nook, though you may know me more as the moderator of the Dewey's Goodreads and Facebook Groups. I am a lover of cheese and German soccer (don't talk to me about the World Cup!). I am a cross stitcher, knitter, crocheter, and quilter. I am a Happy Planner. And an audiobook consumer extraordinaire. What about you? How would you define yourself?
I am also the co-host that hosts these final dying hours of the Read-a-Thon. I cannot believe that it is the beginning of the end.
How has your readathon gone so far? Which hours have been the hardest? How many books have you read? Have you taken a nap? I think I feel asleep three times for an hour or two each time.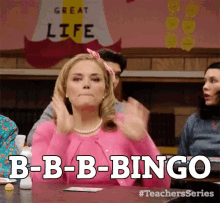 Were you aware that this year we are hosting a BINGO event on the Goodreads Group? With three hours remaining, there is still plenty of time to check in and see how many of the tasks you managed to complete and if you can manage to get a BINGO… or better yet, a BLACKOUT. I am a couple squares away from Blackout and I should be able to complete those easily enough in the next few hours.
Let me know in the comments how your doing and if there is anything I can do to help you stay awake. It's only three more hours! You can do it!!!!
Enter your finished books into the DATABASE here!
Check out the mini-challenges ANY TIME YOU WANT! 
Cheer your fellow readers!
Join our Goodreads or Facebook groups!
Tag your posts with #readathon on all your social channels!